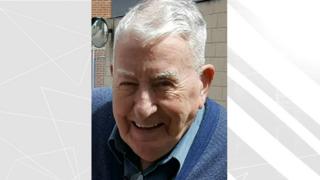 A Catholic priest accused of sexually abusing a South African schoolboy in the 1980s should be extradited, campaigners have said.
William Segodisho told a Johannesburg press conference he was raped by Jesuit priest Father William MacCurtain at a Catholic homeless shelter.
Fr MacCurtain, now 84 and living in a Bournemouth care home, said he "deeply regretted the pain" he caused.
The head of the Jesuit order in the UK has also apologised.
Mr Segodisho spoke about abuse he suffered as a 13-year-old at the hands of the priest in 1989.
He said the priest promised him schooling, bought him clothes and took him for meals but wanted sexual favours in return.
He was told "all I had to do was just give him a bit of pleasure", Mr Segodisho said at the press conference, before detailing sexual acts he had to perform on the priest.
He said he complained and Fr MacCurtain returned to the UK in 1990, but it was not until 2002 that the church investigated and withdrew the priest's ministry.
Fr MacCurtain was allowed to live in a Jesuit care home in Bournemouth next to a Catholic primary school. He is currently said to be in poor health.
Miranda Friedman, of campaign group Women and Men Against Child Abuse, said Mr Segodisho had been subjected to "absolute exploitation" and called for the priest's extradition to South Africa.
"We absolutely demand they give us an answer and with Fr MacCurtan at 84, they are not going to use old age and health to avoid what they have done," she told SABC.
'Violated trust'
A statement by the British Province of the Society of Jesus (Jesuits) said Mr Segodisho had received a sincere apology and an ex-gratia payment.
It said steps had been taken to ensure there was "no safeguarding risk to children".
Fr MacCurtain said in a statement he unable to deal directly with the media.
"I recognise that my behaviour towards Mr Segudisho in the 1980s violated the trust he had put in me as a Catholic priest," he said.
"I deeply regret the pain that I have caused Mr Segodisho, and would wish to apologise to him unreservedly.
"I realise, though, that such an apology cannot right the wrongs done to him at that time, or the suffering that he has endured since," he said.
He added he would not comment on the "legal question" of possible extradition.
UK priest apologises over SA 'sex abuse'