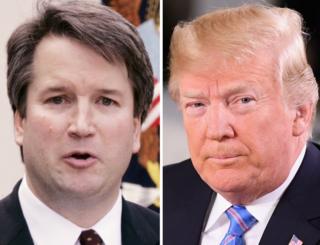 US President Donald Trump has nominated Brett Kavanaugh for the Supreme Court, setting the stage for a bruising confirmation battle.
In a primetime announcement at the White House, Mr Trump praised his pick as a "brilliant jurist".
The nominee, a District of Columbia appeals court judge, is a former adviser to ex-President George W Bush.
The decision has far-reaching implications for America on everything from abortion to guns to immigration.
Mr Trump said: "Judge Kavanaugh has impeccable credentials, unsurpassed qualifications and a proven commitment to equal justice under the law."
This is the president's second appointment to the highest court in the land, potentially allowing him to shape the US for a generation after he leaves the White House.
With reality television-style suspense, he had kept everyone guessing up until the last moment.
The appointee would replace Justice Anthony Kennedy, 81, who announced last month that he will retire this summer.
Trump names Kavanaugh for US Supreme Court