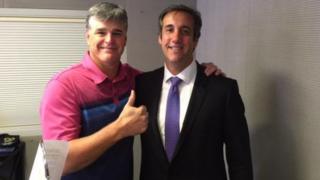 A Fox News host is the mystery third client of US President Donald Trump's lawyer, a court has heard.
A judge ruled that Michael Cohen, the president's long-time personal attorney, must reveal he had been retained by Sean Hannity.
Monday's hearing in a New York City court follows an FBI raid this month on Mr Cohen's home and office.
Agents were seeking evidence on various matters, including a $130,000 payment made to porn star Stormy Daniels.
It not is clear why Hannity hired Mr Cohen.
There are unconfirmed reports that the work was linked to an advertiser boycott of Hannity's show by the left-wing Media Matters group.
The conservative host, who is known for passionately defending Mr Trump on his Fox News show, referred to the Cohen hearing at the start of his radio show on Monday.
"I think it's pretty funny," Hannity said. "I'll decide if I'm going to put out a statement here."
He moved on to discussing other matters.
Just before Monday's hearing, Mr Cohen said in a statement he had only provided advice to three clients in the past year.
One was Mr Trump. Another was a Republican fundraiser who admitted to paying a former Playboy model after making her pregnant.
The third client, Mr Cohen said, had refused to give him permission to be publicly named.
But Judge Kimba Wood made one of the lawyers identify Hannity on Monday.
Also in the court was Ms Daniels.
Mr Cohen has admitted making a payment to the adult film actress, who claims the money was to keep her quiet about an affair she says she had with a married Mr Trump in 2006.
Mr Trump's attorney says he made the payment just before the 2016 election, but maintains Mr Trump did not know about it.
Mr Cohen was in court to argue for the return of files that were seized by the FBI last week, which he says are protected under attorney-client privilege.
He is facing a criminal inquiry, which the president has strongly criticised.
The payoff to Ms Daniels could amount to a campaign finance violation.
The White House has denied Mr Trump had an extramarital affair.
Sean Hannity unmasked as Trump lawyer's mystery client