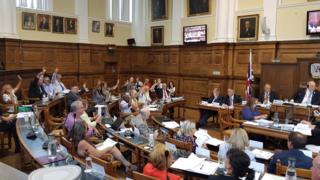 A cash-strapped council has approved massive cuts to jobs and services in a bid to tackle a £70m funding shortfall.
Northamptonshire County Council backed the action plan to reduce spending during a crisis meeting.
Children's services, road maintenance and waste management are among the areas facing "radical" cuts.
Council leader, Conservative Matt Golby, described it as "the most challenging thing me and my colleagues have ever been faced with".
All but one of the Conservative councillors backed the action plan earlier, while opposition groups voted against.
The council will now work out what impact this will have on individual services and jobs.
The government sent in commissioners to oversee Northamptonshire in April after the authority revealed a projected overspend of £21m for 2017-18.
However, the authority was forced to issue a second spending control order to stave off a projected budget shortfall of £60m-£70m this financial year.
A small group gathered outside County Hall ahead of the meeting to protest against the cuts, including Alvarez Wilkinson from the Unison union in Northamptonshire.
He said: "We'll be losing a lot of staff and, when you lose a member of staff, you also lose a service.
"I live in the county and as services disappear, I really worry about the welfare of my family."
As it started, a member of the public blasted the Tory councillors who were not present -a total of 15 failed to attend the meeting.
Bianca Todd said: "There are county councillors who are not here today. You have got to be kidding me. We're making national news.
"When people die this winter, because they will die this winter, the blood will be on your hands."
Summarising the debate, Mr Golby vowed to "not put people at risk"
"That's not what we're about. We're not going to give up," he said.
"We have got to make sure that we provide the services we can. We will meet our statutory duties and I'm happy to say that.
"Do we understand the implications? Yes."
Chief finance officer, Mark McLaughlin, told the meeting the council "cannot continue to spend money it doesn't have" and admitted some previous actions were "clearly wrong", but he said the challenge could be "turned into a success".
Labour group leader Bob Scott said past decisions had been "catastrophic" and his group would not vote to harm the people of Northamptonshire, while Lib Dem group leader Chris Stanbra said there were "unanswered questions" about "who knew what and when" during the crisis.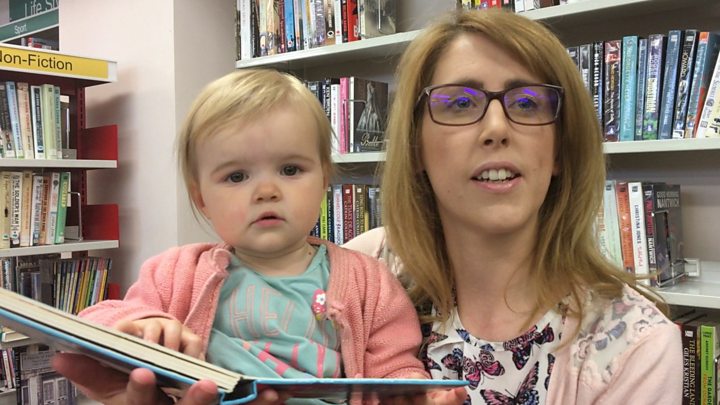 Analysis by BBC Political Reporter Brian Wheeler
In Tory mythology it is free-spending "loony left" Labour councils that get into financial difficulties, not prudent Conservative ones.
The reality has never been quite like that. The last time a council went bankrupt, in Hackney, East London, in 2000, it was run by a Labour/Tory coalition.
But there is more to the Northamptonshire County Council crisis than embarrassment for Theresa May's government – although that is acute enough, given that the council stuck rigidly to the government's spending guidelines.
Local councils have borne the brunt of austerity, with central government funding falling by about half since 2010.
If, as some predict, it is not the last council to go under, this will become a national crisis, not a local one, something Labour has been predicting for a long time.
Financial crisis timeline
Could it happen anywhere else?
Northamptonshire County Council, which has an annual budget of £441m, is the only authority so far to have formally declared itself at risk of spending more than the money it has available.
However, the National Audit Office (NAO) has warned as many as one in 10 larger local authorities in England with responsibility for social care are draining their reserves and will have exhausted them completely in three years unless something changes.
It projected that another one in 10 would run out within five years.
These reserves are sometimes seen as "rainy day" funds. They are there for unplanned expenses or planned one-off costs.
They do not get topped back up again unless the council finds the money from somewhere else.
A Ministry of Housing, Communities and Local Government spokesman said: "The financial challenges facing Northamptonshire council are clearly serious and reinforce how important it was that we took swift action to appoint commissioners.
"These commissioners will continue to work closely with the council as it takes the necessary steps to rebalance its finances."
Northamptonshire council backs 'radical' cuts to services}