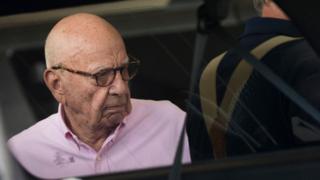 The UK government has cleared a proposed deal for Rupert Murdoch's 21st Century Fox to buy Sky.
The British broadcaster has been the subject of a fierce bidding war between Fox and US cable giant Comcast.
Comcast's bid has already been cleared, and Culture Secretary Jeremy Wright said Fox can go ahead if it sells Sky News.
Fox has been trying to get approval from UK regulators since 2016 to buy the 61% of Sky it does not already own.
Politicians and regulators were concerned it could give Mr Murdoch too much power over the media in the UK.
There were also worries about Sky News' long-term financial viability, and how independent it would be editorially.
Mr Wright said: "The publication of the undertakings marks the final stage of the public interest consideration of this case… It is now a matter for the Sky shareholders to decide whether to accept 21CF's bid."
In January, the Competition and Markets Authority said the deal would not be in the public interest on the grounds of "media plurality", although it found Sky's broadcasting standards to be up to scratch.
Fox has been trying to address the regulatory concerns through concessions, including agreeing to sell Sky News to a bidder such as Disney.
Fox has also said that after the sale it will provide Sky News with funding of at least £100m a year for 15 years.
US media giant Comcast threw its hat into the ring in February with a £22bn offer for Sky, trumping an offer from Fox, and starting a bidding war.
On Wednesday the battle for Sky escalated, with Comcast offering a £26bn deal less than a day after 21st Century Fox increased its offer to £24.5bn.
Murdoch's Fox cleared for Sky takeover bid}