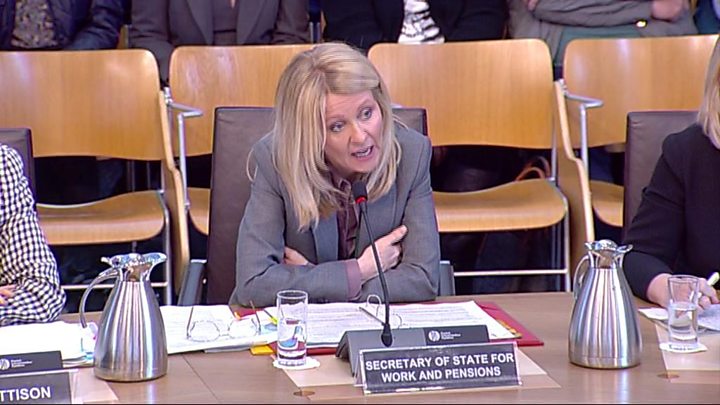 A Holyrood session with Work and Pensions Secretary Esther McVey has been disrupted after heckling from the public gallery.
The social security committee was halted twice.
SNP MSP Ben Macpherson's call for an apology from the UK minister over the impact of welfare reforms led to shouting from the audience about claimants who committed suicide.
Another suspension followed questioning on the so-called "rape clause".
Mr Macpherson raised concerns to the UK government minister about the lack of flexibility around Universal Crediit, suggesting there seemed to be a continual push back from the Department for Work and Pensions to the devolution of social security.
Ms McVey stated there was no push back, arguing that flexibilities existed and extra powers for Scotland to add benefits or create new ones were part of this.
The MSP then explained that he has had constituents cry in front of him over issues around Universal Credit, calling it a "cynical and critical system".
Mr Macpherson said he wanted to give the minister the opportunity to apologise to those who had suffered due to welfare reform.
But when Ms McVey stated the aim of Universal Credit was for it to be a supportive system, shouts from the viewing gallery disrupted the session.
The heckler's angry intervention referred to claimants who had committed suicide and those who had payments suspended for missing appointments.
"I am not oblivious to people who are incredibly vulnerable or who are in need," the work and pensions secretary said.
Referring to the disruption from the audience, she said it was clear the gentleman felt strongly that something needed to be said about the case of a vulnerable person.
Ms McVey added that £200bn per year was spent by the DWP to ensure it reached out to the most vulnerable people.
The re-started session also addressed the so-called "rape clause".
Reforms of the welfare system, which came into force last April, means child tax credits are now capped at two children.
A clause in the new rules means mothers who have a third child as a result of rape can be exempted – but would have to provide evidence to do so.
There has been a political row over the policy, which First Minister Nicola Sturgeon has called "disgusting".
Green MSP Alison Johnstone told Monday morning's committee there had been "almost universal condemnation" at Holyrood of the two-child limit.
She asked if there were plans to publish statistics showing the number of people affected.
Ms McVey said the decision was made to ensure a "fairness" between people who were claiming and working, and the decisions they made.
Benefits would continue for children but the two-child limit referred to tax credits, she clarified.
Ms Johnstone said Scottish Women's Aid and Rape Crisis Scotland had refused to act as third party referrers.
She asked if the minster was comfortable that women had to prove non-consensual conception in order to access a benefit.
The minister replied that the government was providing extra support and said there would be no extra questions from the DWP and people would be supported.
This would give people an opportunity to talk about something they may not have had before, she insisted.
This led to protests from another audience member and another brief suspension as audience tensions spilled over.
The committee was briefly resumed to allow the convener to close the session.
McVey Holyrood committee hearing halted after gallery outcry}