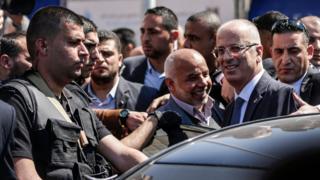 An explosion in the Gaza Strip has targeted the convoy of the Palestinian Prime Minister, Rami Hamdallah.
Mr Hamdallah was unharmed, but there are reports of some injuries.
President Mahmoud Abbas condemned the "cowardly" attack on the convoy and said he held the militant group Hamas, which dominates Gaza, responsible.
The incident took place amid heightened tensions between the main Palestinian factions over the implementation of a reconciliation deal signed last year.
Palestinians in Gaza and the West Bank have been ruled separately since a rift between Hamas and Mr Abbas's Fatah faction erupted in violence in 2007.
Hamas won parliamentary elections in the occupied territories the previous year, and reinforced its power in Gaza after ousting Fatah from the enclave.
According to witnesses, a passenger on a motorbike threw an explosive device at the last car in the prime minister's convoy shortly after it entered Gaza through the Erez Crossing with Israel on Monday morning.
Photographs showed one 4×4 vehicle with its windows apparently blown out and airbags deployed.
President Abbas's office said it held Hamas responsible for the explosion, which it said targeted Mr Hamdallah and the head of intelligence, Majed Faraj – both senior members of Fatah.
Hamas called the attack an "ugly crime" and said it had launched an investigation.
Mr Hamdallah went on to appear at an event to open a water treatment plant.
"The explosion will not stop us from completing the national reconciliation and will not stop us from coming to Gaza," he said in a televised speech, after which his convoy left the territory.
Mr Hamdallah and Hamas leaders were due to meet an Egyptian security delegation during this visit to discuss ways to overcome their differences.
The UN Special Co-ordinator for the Middle East Peace Process, Nickolay Mladenov, also condemned the attack, saying it had to be promptly investigated and the perpetrators brought to justice.
"Until the legitimate Palestinian Authority is fully empowered in Gaza, Hamas has the responsibility to ensure that the government is able to carry out its work in the Strip without fear of intimidation, harassment and violence," he added.
Gaza blast targets Palestinian PM Hamdallah's convoy}