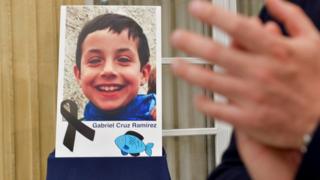 A woman in Spain has confessed to killing her partner's eight-year-old son, whose disappearance prompted mass search efforts, local media say.
Ana Julia Quezada, 43, was arrested on Sunday after the body of Gabriel Cruz was found in the car she was driving.
After previously denying involvement in the death, she has now reportedly told police she hit him hard on the head after a discussion.
Thousands attended the boy's funeral on Tuesday.
Mourners in the southern city of Almería chanted "We're all Gabriel".
Strangled
Ms Quezada's involvement in the killing has shocked Spain. She had regularly appeared at rallies to find the boy.
She is said to have hidden the child's body at a family property in the village of Rodalquilar, but was caught by police trying to move it elsewhere.
Her lawyer, Beatriz Gámez, told Efe news agency that she was "cooperating" with officials, without giving details.
An autopsy reportedly showed Gabriel was strangled on the same day he went missing on 27 February.
On Tuesday, investigators were taking Ms Quezada back to key locations to find out what exactly happened.
In video footage of her arrest, she is heard to shout: "It wasn't me! I collected the car this morning!"
Blue fish
Gabriel's case received nationwide attention after a missing person's alert went viral. A search involving over 4,000 police and volunteers was launched.
An image of a blue fish – inspired by Gabriel's love of the sea – was shared on social media with the hashtag #TodosSomosGabriel, meaning "we are all Gabriel".
The boy's funeral was closed to relatives and officials but was broadcast on a huge screen to the crowd gathered outside Almería's cathedral.
"We know that Gabriel is already somewhere with his fish and that the bad witch of the story no longer exists," said his mother, Patricia Ramírez.
The boy's father, Ángel Cruz, thanked the people for their support.
Gabriel was last seen leaving his grandmother's house in the village of Las Hortichuelas, next to Rodalquilar, in the municipality of Níjar.
He was supposed to go over to a neighbour's for a playdate, but he never returned.
On 3 March, Mr Cruz and Ms Quezada found a T-shirt with his DNA 10 km (6 miles) from Níjar. She had been monitored by police since then, reports said.
Meanwhile, police are also reportedly reviewing the previous case of a four-year-old girl who fell out of the window and died while in her care in 1996. The death was ruled accidental at the time.
Gabriel Cruz: Partner of Spanish boy's father 'admits killing'