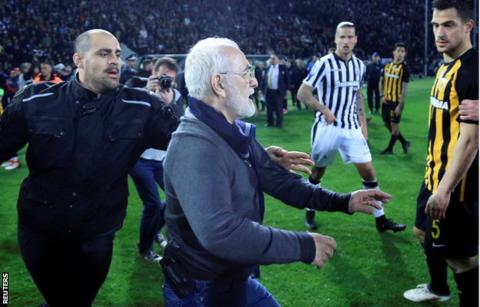 The president of Greek club PAOK Salonika has apologised after he came on to the pitch with a gun during his side's match on Sunday.
Ivan Savvidis had a gun in a holster when he entered the field after PAOK had a late goal ruled out for offside.
The Greek Super League has been suspended and the European Club Association (ECA) has suspended PAOK.
"I am very sorry. I clearly had no right to enter the field of play in this fashion," said Savvidis.
He asked his team to leave the pitch after PAOK had a goal ruled out in the 89th minute against AEK Athens and then marched towards the referee with two bodyguards before being pulled back.
The executive board of the ECA, which represents European clubs, "unanimously decided" to suspend PAOK with immediate effect.
Savvidis – Why I did it
Greek football has been marred by crowd trouble in recent seasons and PAOK were deducted three points – but managed to overturn the sanction on appeal – after Olympiakos coach Oscar Garcia was hit by a toilet roll thrown from the stands at PAOK in February.
Savvidis has claimed his reaction stemmed from the "widespread negative situations" in Greek football, the actions of the referee and his assistant, match suspension, the protests and the invasion of the pitch by "many people on both sides".
"My only aim was to protect tens of thousands of PAOK fans from provocation, riots and human casualties," Savvidis added.
"Please believe that I had no intention to engage in a brawl with our opponents or the referees – and obviously did not threaten anybody.
"Unfortunately, my family and I, as well as my colleagues, have been taken hostage by a totally sick football status quo.
"Despite the non-stop attacks I am facing on all fronts, I fight and I will continue to fight for fair football, equitable refereeing in all encounters and titles being won on the pitch and not in courtrooms."
AFP news agency is reporting that Savvidis is on the run after local police said they were seeking Savvidis to arrest him on Monday.
Savvidis, one of Greece's richest men, was born in Georgia of Greek heritage and is a former member of the Russian parliament.
Football boss 'sorry' for gun incident