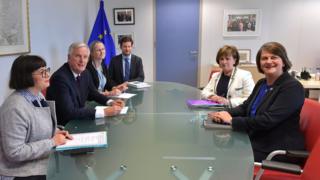 The Democratic Unionist Party's 10 Westminster MPs are planning to vote down the Budget later this month if they are unhappy about the government's Brexit plans, the BBC understands.
Theresa May relies on DUP support in key votes because she does not have a majority in the House of Commons.
But the DUP could abandon this deal if Brexit means new barriers between Northern Ireland and Great Britain, Newsnight's Nick Watt said.
The Budget takes place on 29 October.
If the DUP voted against it the government would face possible defeat, which could lead to a no-confidence vote.
The UK and the EU have yet to strike a deal on how Brexit will work, with less than six months to go before the UK leaves on 29 March.
One of the key things they have not yet agreed is how to prevent there being new border checks between Northern Ireland and the Republic of Ireland, which is a member of the EU.
There have been warnings that a new "hard border" will damage businesses and undermine peace in Northern Ireland.
The DUP has dismissed the warnings about the peace process. It says it will not tolerate the EU's suggestion of Northern Ireland staying in line with EU customs rules to enable trade to flow freely across the border.
Mrs May has also rejected this proposal, saying it would undermine the integrity of the UK.
DUP 'won't be bounced'
Newsnight political editor Nick Watt
Losing a budget vote has traditionally been seen as a withdrawal of confidence in the government. One former Tory cabinet minister told Newsnight: "The DUP should be putting the fear of God into Downing St."
The DUP is growing alarmed because it fears Downing St is edging towards a deal with the EU that may lead to additional regulatory checks on goods travelling between Great Britain and Northern Ireland.
Michel Barnier, the EU's chief negotiator, has called for such checks to avoid creating a hard border between Northern Ireland and the Irish Republic. This would be achieved by aligning Northern Ireland with the rules of the single market.
The prime minister has strongly rejected the Barnier plan. But senior DUP sources fear that Downing Street may agree to some form of regulatory checks.
One DUP source told Newsnight: "If we are not happy with what happens next week [in Brussels] we won't be bounced into anything. If she doesn't take our concerns on board, we will take the view that Theresa May is not the leader to take us through to a safe Brexit."
Mel Stride, the financial secretary to the Treasury, told the BBC the government had a "very strong position" that there would be "no border down the Irish Sea".
He predicted the UK was heading for a deal with the EU and would be keeping the DUP "on board".
"There is no difference between our position on the substantive issue," he added.
DUP 'could vote against the Budget' over Brexit deal}