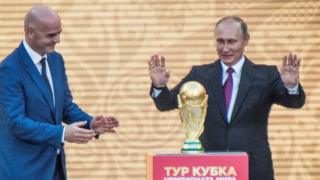 The 2018 World Cup in Russia should be delayed or held in a different country, a Welsh Labour MP has said.
Stephen Kinnock made the comments after Prime Minister Theresa May said it was "highly likely" Russia was responsible for the poisoning of former Russian agent Sergei Skripal and his daughter.
The MP suggested holding the football tournament as planned would almost be a vindication of how the country behaves.
Russia has said the claims it is responsible are "unfounded".
Former double agent Mr Skripal, 66, and his daughter, Yulia, 33, were found slumped on a bench in Salisbury city centre on 4 March. On Tuesday morning they remain in a critical but stable condition in hospital.
The tournament is due to open in Moscow on 14 June.
Speaking on BBC Radio Wales, Mr Kinnock admitted that such action on the World Cup by football governing body FIFA was unlikely, but he said it would be better than for England to simply unilaterally withdraw.
The MP for Aberavon, who previously worked in Russia for the British Council cultural organisation, told the Good Morning Wales programme: "I have to say whilst I think this may well sound really quite unrealistic, I think it would be much better to have a co-ordinated action with FIFA, looking even at the possibility of delaying the world cup and having it in a different country.
"I know that might sound like a highly unlikely thing to achieve because FIFA is not a political organisation, but this just crosses the line.
"What the Russians have done here is completely unacceptable – do we really think that just in a few months we will almost be vindicating the way that they behave by having a celebration of football, and the beautiful game, in their country?
"I think all options need to be all on the table."
"I think if we were to just withdraw unilaterally… in this case the English team were to withdrawal, I think that wouldn't quite be the right way to go about this," Mr Kinnock added.
"Whereas a co-ordinated action across FIFA, that would be really felt in Russia and I think this is a very serious thing that has happened and there needs to be a serious response."
Delay Russia World Cup over poisoning, says Labour MP}