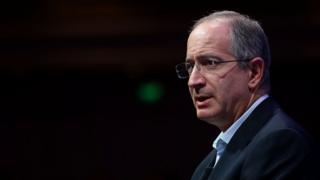 Comcast, the US media conglomerate, has submitted another offer to buy parts of 21st Century Fox, after getting rebuffed last year in favour of Disney.
Comcast said it has offered $65bn (£48.6bn) in cash for Fox's studios and international businesses.
The bid sets up a fight with Disney, which announced its own plan to acquire Fox's businesses last year.
The two firms are also vying for ownership of Sky in the UK.
Comcast said its proposal is "at least as favourable" to shareholders as Disney's offer.
Comcast's proposal would create a massive media conglomerate with few rivals in America.
The firm, one of the largest providers of internet and pay TV in the US, already has a large television and film business, with subsidiaries such as NBC, Telemundo, Universal Pictures and DreamWorks Animation.
It is seeking to add Fox's television and film studios, as well as international properties, including Star India and Sky.
The bid is a challenge to Disney, which announced in December that it would take over those assets in a stock transaction then valued at $52.4bn, or more than $66bn including debt.
The deal, described by the two companies as a merger, was set to give Fox shareholders a roughly 25% stake in Disney.
As part of the deal, Disney pledged to seek to win full ownership of Sky.
Competition with Disney
Fox, which is led by Rupert Murdoch and his sons, rejected an offer from Comcast last year, citing concerns that antitrust officials would oppose a deal.
But a court ruling this week on a similar merger may have alleviated those worries.
On Tuesday, a federal judge cleared the AT&T's takeover of Time Warner, rejecting regulator concerns that the tie-up would stifle competition and lead to higher consumer prices.
Regulators are currently reviewing the Disney transaction. Makan Delrahim, assistant attorney general for antitrust, recently signalled that regulators were open to the combination.
Under the Disney proposal, Fox would retain its news and sports businesses, including Fox News.
Comcast bids for Murdoch's Fox assets in Disney challenge