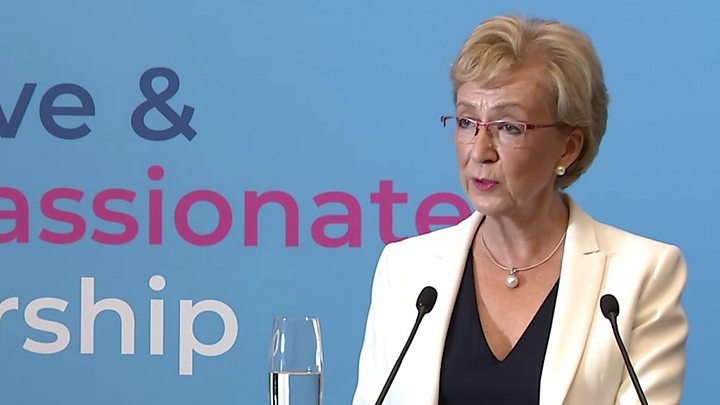 Leaving the EU by the end of October is a "hard red line" and will happen in "all circumstances", Andrea Leadsom has said in her pitch for leadership.
The ex-Commons leader said she had a plan for a "managed exit", adding that Parliament could "not stop us leaving".
But her rival Mark Harper said it was "not possible" to leave by 31 October, while Matt Hancock said Brexit could not be solved by "threatening no deal".
Ten Conservative candidates are in the race to be leader – and next PM.
The deadline for Brexit was pushed back to October after MPs rejected Theresa May's withdrawal agreement with Brussels three times.
The European Union has repeatedly said the agreement will not be re-opened, with chief negotiator Michel Barnier insisting "a new prime minister will not change the problem".
What have the leadership contenders said about Brexit?
"In all circumstances we are leaving the European Union on 31 October," Mrs Leadsom told her official campaign launch. "Our country and our party cannot afford any more indecisiveness."
The Brexiteer MP set out her plan for what she calls a "managed exit" from the European Union, which includes striking a "temporary trade agreement" and a plan to negotiate contingency arrangements with EU leaders over the summer recess.
She said these could be discussed at a summit with the new incoming EU commissioners and heads of government in September.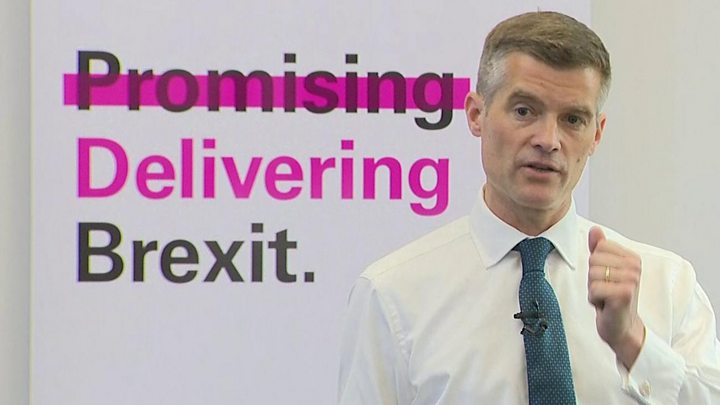 But at his official campaign launch, Mr Harper – an outsider in the race – said it was "not possible or credible" to leave on the terms of a new deal by the existing deadline of 31 October. Renegotiating and getting a deal past MPs would take longer, he said.
He said there could be a majority in the Commons to leave without a deal, but only if ministers demonstrated they had "strained every sinew" to get a new one.
Meanwhile, Health Secretary Mr Hancock – who is also competing for the top job – told BBC Radio 4's Today programme his plan was "eminently deliverable" by 31 October, as the EU was open to changing the political declaration part of the agreement.
"We need to solve Brexit and we cannot do it by threatening no deal," he said, adding: "Parliament will not allow a no-deal Brexit to happen."
But Home Secretary Sajid Javid, who is also running for leader, reiterated that although he wanted a revised deal, "if we got to end of October and the choice was between no deal or no Brexit, I'd pick no deal".
Mr Javid released a campaign video on Tuesday morning, and BBC political editor Laura Kuenssberg says it is the first big attempt by a candidate to communicate a personal story, introducing viewers to his family and background.
What else have the leadership candidates said?
At her official launch, Mrs Leadsom introduced several policies, including using overseas development aid to help poorer countries to decarbonise, helping young people to save for a house deposit with a new scheme and more money for the police.
When questioned on taxes – prompted by Boris Johnson's pledge to cut income tax for those who earn more than £50,000 a year – she said she believed in low taxes.
But tax reform could not get through a hung Parliament, so that "needs to wait".
On Monday, Mr Johnson – who has yet to a do a major campaign appearance or TV interview – said he would use money currently set aside for a no-deal Brexit to raise the 40% tax rate threshold to £80,000.
Taking a swipe at that idea, Mr Harper said he would focus his tax cuts "at the lower end of the spectrum", adding: "I don't think we should be promising more money to higher rate taxpayers."
He also said the lack of a majority meant certain things would not be deliverable and as Brexit showed, it was "toxic" to make promises and not fulfil them.
Earlier, Rory Stewart warned his leadership rivals against offering "cheap electoral bribes" to win support, saying party members who will choose the next PM were "smarter than this".
Rather than being "straight" with people, he said opponents had pledged "eye-watering" tax cuts worth £84bn.
Mr Johnson – accused by Michael Gove and other candidates of "hiding in his bunker" because he has not conducted any events or broadcast interviews so far – is launching his campaign on Wednesday.
How does the contest work?
Ten Conservative candidates will contest Thursday's first round of voting after nominations closed in the contest to succeed Theresa May as Tory leader and prime minister.
Over the next two weeks, Tory MPs will take part in a series of secret ballots to whittle the candidates down to the final two.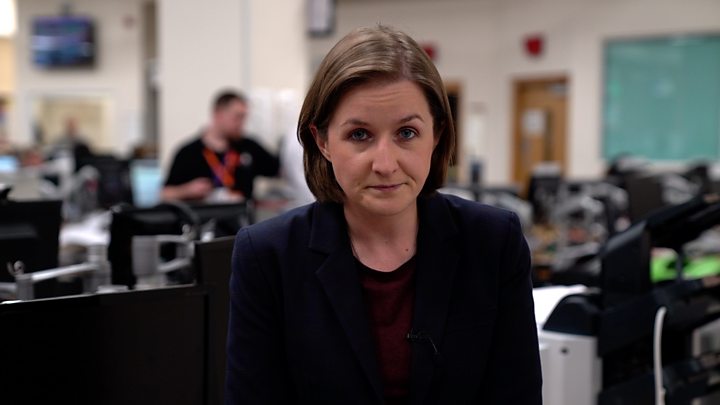 The party's 160,000 or so members will then pick a winner in a postal ballot, with the result announced in the penultimate week of July.
The Johnson factor
The front-runner's team is actively trying to keep him out of it for now.
There is a very concerted effort by Boris Johnson's team not to stuff up his initial advantage – in the words of one, to "stop him doing mad things".
But it's not so strange, in a way, because that is how Mr Johnson's supporters argue he would run the government.
The idea is that he could provide the pizzazz and profile to energise his party, and the government.
But the day-to-day grind of running the government would be down to others. The model I've heard it described countless times, he would be the chairman, not the chief executive.
Any politician who tells you they wouldn't like to have even a sprinkle of the former foreign secretary's stardust is likely not to be telling you the truth. For good or ill, whether they love or hate him, he is not a politician that is easy to ignore.
And that's why MPs who think some of his ideas are bonkers are now signed up to be part of his team. They believe he can win, and they want to be part of it, if even to restrain his excess.
On Tuesday 18 June BBC One will host a live election debate between the Conservative MPs still in the race.
If you would like to ask the candidates a question live on air, use the form below. It should be open to all of them, not a specific politician.
If you are reading this page on the BBC News app, you will need to visit the mobile version of the BBC website to submit your question on this topic.
Brexit: Tory leadership rivals split over Brexit deadline}