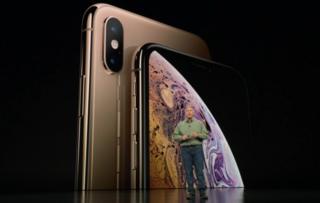 Apple has updated its flagship iPhone X handset with two more powerful models, one of which is larger than before.
The iPhone XS Max has a 6.5in (16.5cm) display. The iPhone XS has the same 5.8in-sized component as the original.
Apple said that its Face ID system now works faster than before, and is still unveiling other features.
There had been concerns that the relatively high £999 entry price of iPhone X would limit its appeal when it was announced a year ago.
But Apple said it had consistently proven more popular than either of the lower-priced iPhone 8 models. Market research firms suggest it also outsold rival companies' flagship devices.
That helped propel Apple to become the world's first company with a market capitalisation above $1tn (£768m).
However, China's Huawei still managed to overtake it in terms of overall smartphone market share in the April-to-June quarter, putting Apple into third place.
"Huawei was able to overtake it because Apple is not playing in the mid and low ends of the market," commented Francisco Jeronimo from IDC.
"But Apple is very well positioned in the premium segment, and we don't expect that to change over the next 18 months."
New Watch
Earlier at its California event, Apple unveiled a new smartwatch whose display extends further towards its edges than earlier models.
The firm said the Watch Series 4's usable screen was more than 30% larger despite the device itself having similar dimensions to its predecessor.
It also gains the ability to detect if its wearer has fallen and to take electrocardiogram heartbeat readings.
Apple overtook Xiaomi and Fitbit to become the world's bestselling wearable tech company in the second half of 2017 thanks to strong demand for the last generation of its smartwatch. It has held on to the top spot ever since, according to IDC.
"The reason it performed so well is that many network operators are only willing to focus on smartwatches with their own [built-in cellular] connectivity," said Mr Jeronimo.
"That's why they are shipping about as many watches as the whole Swiss watch-making industry."
Health features
Several insurance firms and employers already offer the Apple Watch because of its health-tracking features and its new facilities should add to its appeal.
Apple said that the Watch would warn users if it detected abnormally fast and slow heart rhythms, and added that it had already been given "clearance" by the US Food and Drug Administration.
"Getting FDA approval for health features on the new Watch underlines Apple's leadership in wrist-worn tech," commented Ben Wood from the CCS Insight consultancy.
"It's an arduous process that no other consumer wearable company has successfully navigated."
Apple added that a fall-detection facility had been made possible because of the introduction of "next-generation" gyroscope and accelerometer sensors that sampled data eight times faster than before.
If it believes the user has fallen and remained immobile for a minute or more, it will call the emergency services for help, if set to do so.
IBM Simon: The first mobile phone to offer a touchscreen user-interface – but its battery only lasted an hour.
Siemens S10: The first handset with a colour display – although only red, green, blue and white could be shown.
LG Prada: The handset debuted a capacitive touchscreen – detecting finger taps by changes in the display's electrical field rather than pressure.
iPhone: Apple made use of "multi-touch", detecting several points of contact – allowing pinch-to-zoom and other interactions.
Nokia N85: First phone with an OLED (organic light-emitting diode) display, letting it show deeper blacks and better contrast.
Samsung Galaxy Note: Although not the first "phablet", the handset proved there was demand for a 5+ inch display, despite claims it was "comically huge".
LG G Flex: The curved design was derided as being a gimmick, but points the way to the true "bendy" phones of the future.
Sharp Aquos Crystal: The phone's "edgeless" look foreshadowed today's trend to keep bezels to a minimum.
Samsung Galaxy Note Edge: Samsung's first handset to wrap its screen over one its sides used the extra space for notifications and app shortcuts.
Sony Xperia Z5 Premium: The smartphone premiered a 4K display before it was easy to obtain such ultra-high definition mobile content.
Essential Phone: The start-up beat Apple to featuring a camera notch in its display, which allowed the rest of the screen to extend upwards.
Vivo X21: The Chinese firm beat rivals to offering a fingerprint reader beneath its screen.
Apple unveils iPhone XS and fall-detecting Watch