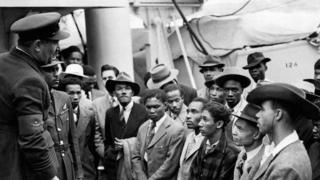 The home secretary has apologised for the treatment of the Windrush generation, saying it was "wrong" and "appalling" that some face deportation.
Many long-term immigrants who arrived from the Commonwealth as children have been told they are here illegally.
Amber Rudd announced a new task force to help those affected, and promised to waive fees for new documents needed to prove their status and stay in the UK.
The prime minister is to discuss the issue with other Commonwealth leaders.
Theresa May changed her mind about meeting the leaders this week, amid growing calls for Theresa May to take action, including a letter from a cross-party group of 140 MPs.
Labour MP David Lammy tweeted that the meeting was a "small U-turn", adding that he wanted the government to "guarantee the status of all the Windrush children caught up in this crisis" by the end of the day.
Thousands of people arrived in the UK as children in the first wave of Commonwealth immigration 70 years ago.
They are known as the Windrush generation – a reference to the ship, the Empire Windrush, which brought workers from the West Indies to Britain in 1948.
Under the 1971 Immigration Act, all Commonwealth citizens already living in the UK were given indefinite leave to remain – but the right to free movement between Commonwealth nations was ended from that date onwards.
However, the Home Office did not keep a record of those granted leave to remain or issue any paperwork confirming it, meaning it is difficult for the individuals to now prove they are in the UK legally.
Recent changes to immigration law in the UK, which requires people to have documentation to work, rent a property or access benefits, has highlighted the issue and left people fearful about their status.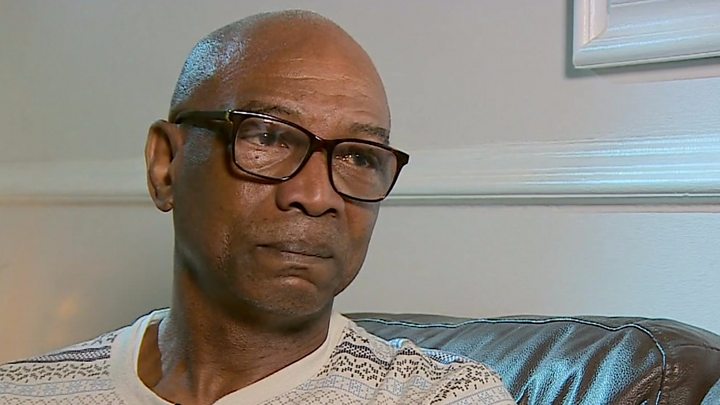 Labour leader Jeremy Corbyn tweeted it was "disgraceful" that the rights of the Windrush generation had been brought into question, calling on Mrs May to "answer serious questions about how this happened on her watch".
Mrs May's spokesman said the prime minister was clear that "no-one with the right to be here will be made to leave".
He added that the PM is "aware that many people are unlikely to have documents that are over 40 years old".
London mayor Sadiq Khan said he welcomed Mrs May's decision to meet with other leaders, but added: "She must now go further and make an immediate commitment to recognise and secure the rights of Commonwealth citizens."
Home Secretary Ms Rudd confirmed to the House of Commons that a "task force" would be created in her department to help the Windrush generation and ensure no-one loses their access to public services and entitlements.
She said: "I do not want any of the Commonwealth citizens who are here legally to be impacted in the way they have and frankly, some of the ways they have been treated is wrong, has been appalling, and I am sorry."
However, when asked how many may have been deported as a result of this issue, she said she would have to speak to High Commissioners of different Commonwealth countries to find out if any cases exist.
'No question of right to remain'
Immigration minister Caroline Nokes said some "terrible mistakes" were made in cases involving the Windrush generation, but she also did not answer questions over deportation.
Speaking to BBC Radio 4's World at One, Ms Nokes said the Windrush generation had "contributed an enormous amount to our community [and] to our society" and that the government had "an absolute responsibility to make sure there are no more of these mistakes".
Asked by ITV News if any people had been deported as a result of these "mistakes", Ms Nokes said: "There have been some horrendous situations, which as a minister have appalled me."
Told by the reporter "that's a yes" and asked how many, she said: "No, I don't know the numbers, but what I'm determined to do going forward is we'll have no more of this."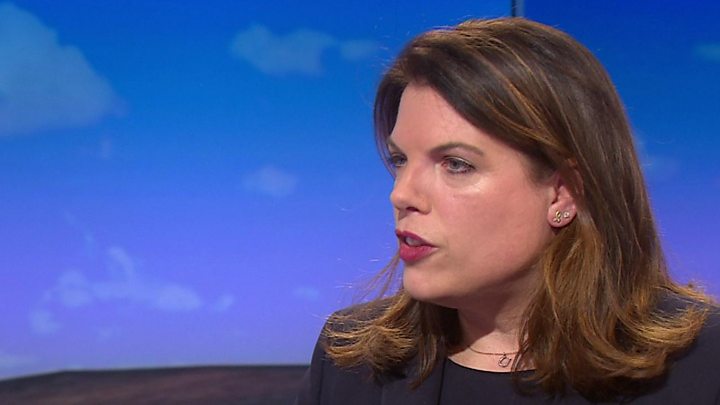 A letter to the prime minister, co-ordinated by Mr Lammy, called for a "swift resolution of this growing crisis".
It said: "We urge you to guarantee the status of all Commonwealth nationals whose right to remain is protected by law and to provide an effective, humane route to the clarification of their status.
"What is going on is grotesque, immoral and inhumane," he said.
It was signed by 140 MPs including Labour leader Jeremy Corbyn and Conservative MP Sarah Wollaston.
Analysis: What has changed?
By BBC Reality Check
Changes to the immigration system from 2012 onwards clamped down on people living in the UK illegally, introducing new checks by employers, landlords and the NHS.
And some people who arrived legally decades ago are being caught out by these checks, when they try to rent a house or get medical treatment, because they aren't able to prove their status.
That's because the Home Office didn't keep records of those it granted indefinite leave to remain in the 1970s, and not everyone went on to apply to become British citizens.
To prove they are living in the country legally, people in this situation must currently apply for No Time Limit (NTL) status at a cost of £229.
They must provide documentation for every year they have been in the country, which can include payslips, bank statements and educational or medical records.
The Home Office says more informal testimonies will do. But a legal charity, the Joint Council for Welfare of Immigrants, says that in practice many are having their applications rejected if they are not able to provide up to four pieces of formal documentation for each year.
The Migration Observatory at Oxford University estimates there are 500,000 people resident in the UK who were born in a Commonwealth country and arrived before 1971.
People born in Jamaica and other Caribbean countries are thought to be more affected than those from other Commonwealth nations, as they were more likely to arrive on their parent's passports without their own ID documents.
Many have never applied for a passport in their own name or had their immigration status formalised, as they regarded themselves as British.
The Guardian newspaper has highlighted a number of cases of such people being threatened with deportation.
---
Are you a member or descendant of the Windrush Generation – or did you arrive in the UK from another Commonwealth country as a minor between 1948-1971? We'd like to hear from you via email haveyoursay@bbc.co.uk.
Please include a contact number if you are willing to speak to a BBC journalist. You can also contact us in the following ways:
Amber Rudd: Windrush generation treatment 'appalling'}