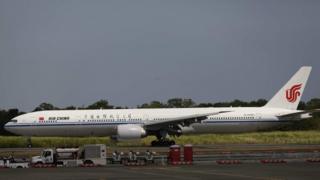 Chinese authorities have released details of a man who threatened airline crew with a fountain pen, leading to the diversion of an Air China flight on Sunday.
Police said a man, identified only as Mr Xu, 41, was taken into custody and had a history of mental illness.
Air China flight CA1350 was heading to Beijing from Changsha but had to make an emergency landing in Henan province.
No passengers or crew were harmed during the incident.
Photos circulating on Chinese social media showed a man holding a cabin crew member around the neck using the pen as a weapon.
"The man onboard flight CA 1350 had a sudden [flare-up] of mental illness when he held a flight attendant hostage," said the Henan public security bureau in a statement on Weibo.
The security bureau added that the flight was forced to make an emergency landing at 09:58am local time on Sunday and was diverted to the Chinese province of Henan. All passengers were safely escorted off the aircraft by 10:50am.
Mr Xu, who is said to be from Hunan's An Hua county, was later taken into custody with police now looking into the incident. The security bureau did not add when, or if, he had been released.
Hao Junbo, a Beijing-based lawyer, told news outlet the Beijing Morning Post that the man would not be held criminally liable if he was proven to have been suffering from a mental illness at the time.
Air China plane 'pen' hostage drama suspect held by police}